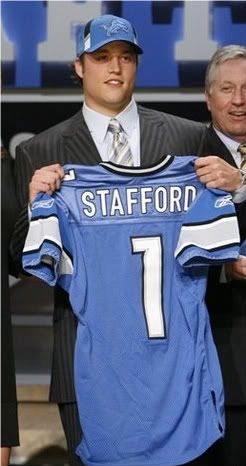 Last summer, NFL Commissioner Roger Goodell said he was open to having a rookie salary cap put in place so the NFL Draft doesn't churn out record-setting contracts every year.
The day before last weekend's draft, he reaffirmed his stance on implementing a cap.
"(The money) needs to go to the players who play well and are successful on the NFL level," Goodell said.
To give you an idea why the argument for a cap exists, here are the rookie contracts for #1 overall NFL Draft picks since 1999:
1999 – Tim Couch (QB): Seven-year, $48 million contract ($12.25 million signing bonus)
2000- Courtney Brown (DE): Six-year, $45 million contract ($10.8 million signing bonus)
2001 – Michael Vick (QB): Six-year, $62 million contract ($3 million signing bonus)
2002 – David Carr (QB): Seven-year, $46.2 million ($10.92 million signing bonus)
2003 – Carson Palmer (QB): Seven-year, $49 million contract ($10.01 million guaranteed)
2004 – Eli Manning (QB): Six-year, $54 million contract ($20 million guaranteed)
2005 – Alex Smith (QB): Six-year, $49.5 million contract ($24 million guaranteed)
2006 – Mario Williams (DE): Six-year, $54 million contract ($26.5 million guaranteed)
2007 – JaMarcus Russell (QB): Six-year, $60 million contract ($29 million guaranteed)
2008 – Jake Long (OT): Five-year, $57.75 million contract ($30 million guaranteed)
2009 – Matthew Stafford (QB): Six-year, $72 million contract ($41.7 million guaranteed)
Anybody see the pattern? Since 2004, the guaranteed money has increased. Stafford will receive 39% more in guarantees than last's years number one pick Jake Long and 43% more than JaMarcus Russell, the number one pick in 2007. He will also receive around 300% more than 2003 top man Carson Palmer.
Stafford's contract was based off of last year's Offensive Rookie of the Year Matt Ryan. Ryan was the first quarterback selected in the 2008 draft and signed a six-year, $72 million contract with $34.75 million guaranteed. Stafford will receive about $7 million more in guarantees.
Remember how the Washington Redskins broke the bank by giving defensive tackle Albert Haynesworth a record $41 million in guarantees? Well, now that record goes to the rookie Stafford.
Without taking a snap in the NFL, he is earning more in guaranteed money than Donovan McNabb, Ben Roethlisberger, Tom Brady, and Peyton Manning. Yeah, those Pro Bowl quarterbacks.
I hope Stafford succeeds. He's got all the tools to be a great quarterback and seems like a nice kid. However, there is no way he should be earning more in guarantees than the league's top quarterbacks. Shouldn't a contract be based off of a player's performance and not his potential?
It's time for the player's union to think about what could happen down the road. What's to say that one day a future number one pick could become the richest player in NFL history? It's not such a crazy thought anymore. What's even crazier, is that some number ones don't pan out. So why potentially waste your money on wasted potential?
For further reading on this topic, we suggest this excellent post from the guys at No Guts, No Glory. While you're at it, check out everything else they have to offer too. Why? Because we said so. – Ed.