Michigan wants to win. Period. In order to potentially do that, the all-time winningest program in college football had to do something a lot of Big 10 teams seem to have trouble doing, they had to be bold.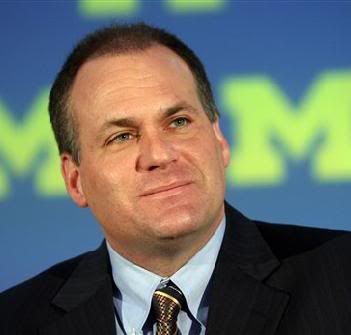 So, how was Michigan bold this offseason? They searched for a head coach and landed West Virginia's Rich Rodriguez, welcoming him and his spread option offense to Ann Arbor. Talk about bold.
However, there is no Pat White or Steve Slaton here to help his spread option succeed right off the bat. Instead, Rodriguez has all underclassmen quarterbacks and a shaky offensive line to worry about.
Is a long year ahead for Michigan, or can Rodriguez's new-look offense gel quickly and give the Wolverines a chance for a successful 2008?
Head Coach: Rich Rodriguez (first year at Michigan, 60-26 at West Virginia, 104-62-2 overall)
2007 record: 9-4 (6-2 Big 10), beat Florida in Capital One Bowl
Returning starters: 11 (offense: 3, defense: 7, kicker/punter: 1)
Top returnees: RB Brandon Minor, WR Greg Mathews, LT Mark Ortmann, DE Tim Jamison, DE Brandon Graham, DT Will Johnson, NT Terrance Taylor, LB Obi Ezeh, CB Morgan Trent, P Zoltan Mesko
Key losses: QB Chad Henne, QB Ryan Mallett, RB Mike Hart, WR Mario Manningham, WR Adrian Arrington, LT Jake Long, RG Adam Kraus, C Justin Boren, LB Shawn Crable, LB Chris Graham, SS Jamar Adams
2008 Schedule
Aug. 30 Utah
Sept. 6 Miami University
Sept. 13 @ Notre Dame
Sept. 27 Wisconsin
Oct. 4 Illinois
Oct. 11 Toledo
Oct. 18 @ Penn State
Oct. 25 Michigan State
Nov. 1 @ Purdue
Nov. 8 @ Minnesota
Nov. 15 Northwestern
Nov. 22 @ Ohio State
Key game: Nov. 22 @ Ohio State – This is always a key game on the schedule, but it might mean a bit more in 2008. Michigan is in what most pro-sports call "rebuilding mode." On the other hand, Ohio State is built to win now. If Michigan, no matter what their record is, ends its four-game losing streak to OSU, it would give them a huge momentum boost riding into the 2009 season.
2008 Outlook
The spread option offense will be far from what it was at West Virginia, but remember, Rome wasn't built in a day. Rich Rodriguez might not have all the pieces, but he is attempting to lay down the foundation this season.
How do you start that? That's easy, you get a young QB, and Michigan has four of those.
The projected starter right now is redshirt freshman Steven Threet, a transfer from Georgia Tech. Threet, who comes in at a hefty 6'6, 230, isn't really viewed as a spread option guy. So, to cater to his strengths, Rodriguez will tinker with the offense a bit. Threet has more of a "pass first" mentality, but he does have enough mobility to survive in the spread.
The Wolverines have two other quarterbacks in sophomore Nick Sheridan and freshman Justin Feagin that Rodriguez is grooming to take over in the near future. Sheridan is raw, but he has the speed and mobility needed to run this offense. Meanwhile, Feagin is a freshman who is viewed as "Pat White, Jr." because he is roughly the same size, has a decent arm, and can rush the ball effectively. In his senior year in high school, Feagin rushed for 1,313 yards and 25 touchdowns. That would certainly put one on the right path to being the next Pat White.
The Wolverines have a solid option in the backfield to replace the legendary Mike Hart in junior running back Brandon Minor, whose quick bursts of speed and strength are the perfect recipe for being a good running back. Another potential threat is Minor's slated backup junior Carlos Brown. Brown, who made the transition from cornerback to running back last season, also uses size and speed to get between tackles. Currently, he is battling a broken finger but should be on the field regardless. Michigan also loaded up at running back in a quality 2008 recruiting class, including highlight-reel sensation Sam McGuffie, so they're not short on guys who can carry the ball this season.
Okay, so we have the QB and running back ready to run this spread option, but what about wide receiver? Enter Greg Mathews. Mathews was the team's third leading receiver behind Mario Manningham and Adrian Arrington last season with 39 catches, 366 yards, and three touchdowns, and with both gone to the NFL, the spotlight is now on the 6'3, 210-pound junior. Mathews is definitely not the fastest wide receiver, but he always finds a way to get open. For a young quarterback, Mathews' ability to get open might be just what the doctor ordered.
To complement him, the Wolverines have sophomores Junior Hemingway and Toney Clemons, who both have the speed to be potential deep threats. Another prime target is junior tight end Carson Butler, who is not only a guy who can make some key catches, but he can battle in the trenches and make some blocks too.
Besides the returnees, there's a lot of buzz about the freshman group of receivers, which includes two Houston-area stars in Daryl Stonum and 5'9 lightning bolt Terrence Robinson. Both Stonum and Robinson are slated to make an impact early, and so could fellow true freshmen Martavious Odoms and Michael Shaw.
Now, one of the main criticisms in Ann Arbor is the offensive line, which took a big hit thanks to the losses of Jake Long, Adam Kraus, and cardinal sinner Justin Boren, who likely isn't allowed in any of Ann Arbor's finest establishments these days after his transfer to Ohio State and all of the goings-on since. The only returning starter on this offensive line from 2007 is sophomore right tackle Steve Schilling, who has tremendous upside and will be counted on to have a stellar season.
The notables among the new starters are juniors Mark Ortmann and David Moosman. Taking over for Long will be 6'7, 294-pound Ortmann. Last season, Ortmann started two games at right tackle and did a fairly good job, but this time, he's protecting the blindside. At center is Moosman, and with a name that sounds like "moose man," you can bet on one thing the coaches like about him, his strength.
While there are a lot of questions on offense, the Wolverines' defense could definitely be one of the top rated defenses in college football. Their biggest strength, however, is their defensive line. The established star on this line is tackle Terrance Taylor. The senior, who had 55 tackles, 8.5 tackles for loss, and 3.5 sacks last year, has a good mixture of speed and strength that all coaches drool over. He might not just be "the man" on the defensive line but maybe for the entire defense.
Next to Taylor will be senior Will Johnson, who is expected to be a standout playmaker. Returning at the ends are junior Brandon Graham and senior Tim Jamison, who combined for 19.5 tackles for loss and 14 sacks last season. Staying healthy is a concern for Jamison, but if he's injury-free, the pass rush will be a force.
Linebackers were one of Michigan's biggest strengths last season, but Shawn Crable and Chris Graham, who were both leaders on the Wolverines in tackles, are gone now.
However, sophomore middle 'backer Obi Ezeh, who was 5th on the team in tackles in 2007, is back and will be looked at as one of their leaders on defense. Another important factor in the middle of the field is on the weak side, where Rich Rodriguez is looking to go with a rotation of sophomores James Mouton and Marell Evans. Both were players on the special teams unit, but coaches have raved about their ability to do well in pass coverage.
Behind the linebackers, junior Stevie Brown is returning at free safety, but next to him, senior Brandon Harrison will be replacing Jamar Adams at strong safety. Harrison has enough speed to actually play cornerback if need be. However, the biggest concern surrounding him this season is his banged-up shoulder.
At corner, senior Morgan Trent showed he had the ability to replace Leon Hall, picking off two passes and recording eight pass breakups last season. Opposite Trent is Donovan Warren, who had 52 tackles, an interception, and five passes defended last season. Besides his ability to cover receivers with his excellent speed, Warren has a keen ability to put some serious hits on people. Michigan also signed one of the top cornerback recruits in the country in Boubacar Cissoko, who should get a lot of experience right out of the gate.
This season will be one where Rich Rodriguez tests the waters. There are a lot of questions right now, but after this season, those questions might be answered quickly and could payoff for the Wolverines in the grand scheme of things.
However, you don't need to write them off in 2008 already. With veteran experience on defense, they could be a potential surprise. If everything pans-out on offense this season, and the defense plays up to their potential, the Wolverines could go 7-5 or 8-4 overall with a non-BCS bowl appearance. If things don't necessarily pan-out, then a 5-7 or 4-8 overall record is more in sight.
Remember though, the goal this season is to lay down the foundation for the future, and with a lot of young talent suiting up for the maize and blue, Michigan fans need to put their shades on.
Where do the Wolverines rank in our Big Ten preview? Check it out here.